Free eBook: 10 Powerful Lottery Wheels
Powerful Lottery eBook!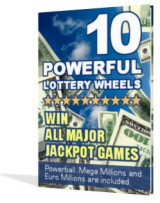 Witness first-hand how pure mathematics turns losers into winners. With this set of easy instructions, you maximize your chances to tackle some of the biggest jackpot games.
These 10 lottery wheels are perfect for Powerball, Mega Millions, Euro Millions, Classic Lotto, Megabucks, or any other 5 and 6 number lotto game.
Even the most sophisticated skeptics are impressed with the potential power of this betting system. So sit back and relax cos you're about to discover 10 powerful lottery wheels that makes you win!
Give this free ebook away to your friends, twitter followers, website visitors, etc … Unlimited giveaway rights are included!
Download '10 Powerful Lottery Wheels' – pdf

---