Half a Billion Monster Jackpot won in New Hampshire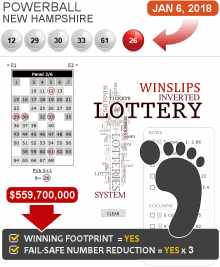 Yesterday, one winner from New Hampshire captured Powerball's $559,700,000 grand prize.
Congratulations to the winner!
Lots of players will be disappointed that it wasn't their turn this time, but then again, playing lottery jackpot games is a never-ending opportunity where you can trade a couple of bucks for a chance to win a fortune.
And rather than saying that winning the lottery is a "mission impossible", why not just seeing things the way they are?
You simply can't win the lottery if you don't participate.
That's what matters.
Some quick observations when you open this BIGGER screenshot, and I hate to sound like a broken record but what you see here is the truth …
3 of Winslips' 6 number reduction panels were holding the 5 winning Powerball numbers (12, 29, 30, 33 and 61). You can see full details on this page.
The lottery form for Powerball New Hampshire has the 7 column layout. With Winslips, you can easily select the exact configuration for each participating state.
Yesterday's winning combination had that typical number distribution footprint that nearly all jackpot winning tickets have. When you use Winslips to pick your numbers, all your combinations are guaranteed to have that winning footprint too.
Finally, let me mention that another 7 Second Prize Winners won $1,000,000 each!
That's right. Yesterday, 7 tickets matched the 5 main numbers without the extra Powerball:
1 ticket from Connecticut
2 tickets from New Jersey
1 ticket from South Carolina
2 tickets from Texas
1 ticket from Washington
Again, congratulations to all the winners.
One more thing …
Have a quick peek at my post from yesterday as well. One winner from Florida captured the Mega Millions grand prize. Have a look at my 5 observations.
To your awesome success in 2018
Stefan
---