Should you use a Premium Lottery System (or not)?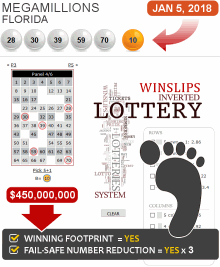 Would you have won yesterday's $450 Million Dollar jackpot if you had used a premium lottery system like Winslips?
A better chance was certainly there!
Big jackpot games like Mega Millions and Powerball are no easy games. But there is a way to turn those hard-to-hit lottery games into much easier games.
Disclaimer!
When I say "much easier", that doesn't mean "easy as pie". However, when you consider the low amount of tickets involved to execute the Winslips program, you will understand how groundbreaking this amazing lottery system really is.
To follow my quick analysis of yesterday's draw result, click on the Mega Millions thumbnail just above to see a bigger screenshot of Winslips' Mega Millions set-up.
Mega Millions Screenshot – $450M Jackpot Analysis – Florida, Jan 5 2018
First observation:
The lottery form for Mega Millions Florida – where Mega Millions $450M jackpot was won – has the 7 column layout. With Winslips, you can select the exact configuration for each participating state. In this screenshot, Florida's 7 column layout is displayed.
Second observation:
3 of Winslips' 6 number reduction panels were holding the 5 winning Mega Millions numbers (28, 30, 39, 59 and 70). Only one reduction panel is displayed here. The 2 other reduction panels are loaded in the background (and not visible on this screenshot)
Third observation:
Picking numbers from a smaller pool of numbers is always EASIER than picking an equal amount of numbers from more numbers on the condition that the winning combination resides in the smaller pool. This condition must be met BEFORE the draw takes place. This is ALWAYS the case when you use Winslips.
Fourth observation:
Yesterday's winning combination had that typical number distribution footprint that nearly all jackpot winning tickets have. Honestly, why bother playing tickets that don't have that winning footprint? You won't catch fish in an empty pond.
Fifth observation:
That Mega Ball is a killer ball, and unless you play them all (25 possible outcomes) there's no easy way to eliminate it. However, with yesterday's draw result, there were 10 players winning $1 Million or more without matching that Mega Ball

7 winners won $1M
1 winner won $1.86 M (California)
2 winners won $3M (Megaplier)
Remember! With Winslips, you can turn any jackpot game into a much easier game. There's always a next draw and it could be your turn then to win BIG.
Here's a direct link to get instant access:
http://www.winslips.com/winslips-ultimate.html
To your awesome success in 2018,
Stefan
---